TECDIS software in general
TECDIS was one of the first ECDIS systems approved by IMO's standards. Since the launch in 2004 TECDIS has continually been updated and improved, and today it supports highly desirable functions such as Admiralty Information Overlay(AIO), C-Map T&P, radar overlay, videoswitching, Navtex and sensordata over IP (IEC 61162-4, also known as NMEA-450).
TECDIS can display ENC chart data in the following formats:
S-57 edition 3
S-63 edition 1.0 and 1.1
C-Map CM93/3 (ENC, ENC+ and Professional+)
All chart information is combined with user generated data and sensor information real time in the system.
Select chart services from Navtor, ChartCo, C-Map and Nautisk can use our rapid chart installation functions, to greatly reduce time spent on keeping the charts up to date.
TECDIS offers a unique integration of official ENCs and commercial charts. This means you get seamless use of advanced chart functions, as well as worldwide and world scale chart coverage, even where there are no official charts.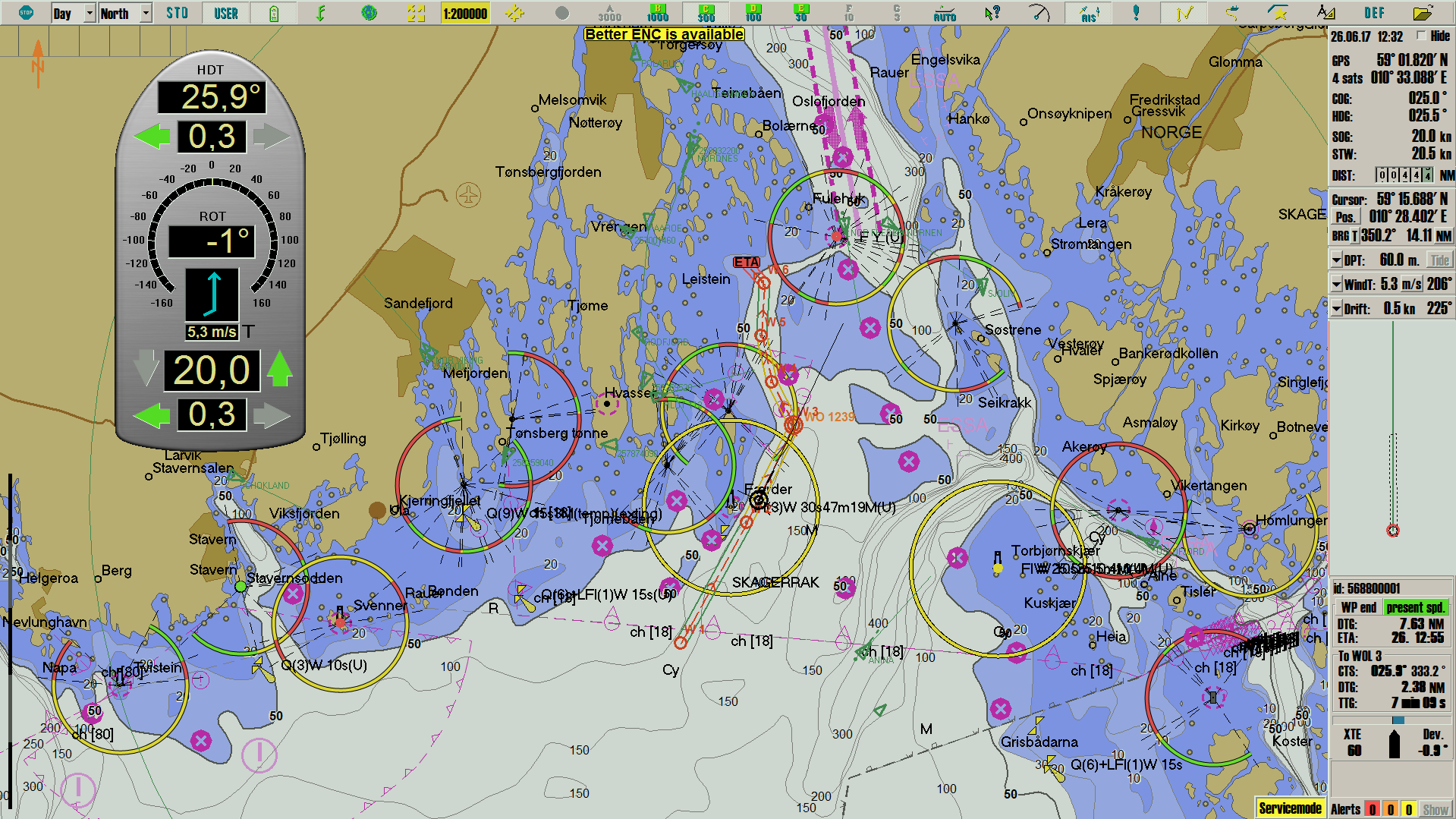 Functionality highlight
Easy to use and feature rich Route planning tool, with primary/secondary routes, route merge, undo functionality and easy editing
Automatic anti grounding system with customizable safety sone in front of the vessel
Close integration with NAVTEX, AIS og ARPA radar
Advanced sensor data filtration
User data system for flexible creation, display, storage and export of past track lines, symbols, lines/areas, routes and log files
Harbour Mode – removing disturbing alarm sounds when navigating shallow waters/harbours
Fully integrated alert system with several customization options
Flexible chart presentation with many advanced customization options
Unique conning and docking displays
Automatic voyage data recording with playback
Radar overlay for Furuno Radars
Track Control with adaptive autopilot
Dynamic Licensing of ENC charts (pay-per-view)
Detailed weather overlay with route integration (requires C-Map chart subscription)
Automatic generation of routes between hundreds of ports around the world, with C-Map C-Routes (requires C-Map chart subscription)
Powerful route planning tools
TECDIS route planning is more flexible and easier to use than ever.
Customize the chart display
Each navigator can now set their own custom chart display settings, and fully control
safe depth
light character
danger display
information density
Presentation type (S52 or INT1*)
(*= INT1 is not approved for sailing, only planning)
Antigrounding system
When you create your routes you can perform danger checks of each route leg, with full information on each potential danger. When you activate a specific route to start sailing, the antigrounding system checks the entire route and your actual voyage progression for dangers in real time. The antigrounding system issues alarms for any collision danger.
Integrert presentation of AIS and ARPA
TECDIS presents AIS og ARPA targets in the chart with names, past track, course and heading, providing you with all essential information for safe navigation. All information on AIS/ARPA targets can be displayed when needed, and safety related messages can be sent and received directly from the TECDIS unit.
Conning approved by DNV GL
TECDIS can be set up to run the conning system for the vessel. This system is tailor made to your vessel if you have NAUT-AW or NAUT-OSV classification. All conning systems delivered by Telko are approved by DNV GL.
Paperless voyage
Vessels equipped with a dual TECDIS installation with up-to-date ENC chart coverage for the planned voyage can sail without paper charts. When you add that most ENC's contain all temporary and preliminary notices from NtM, gives you a solution with considerable less hassle then non-paperless systems.


TECDIS complies with:
Marine Equipment Directive, Annex A.1, item No. A.1/4.30
Marine Equipment Directive, Annex B, Module B (MED-B).
IMO Resolution A.694(17)
IMO Resolution MSC.74(69) Annex 2
IMO Resolution MSC.191(79)
IMO Resolution MSC.232(82)