Introducing

Electronic Record Books
---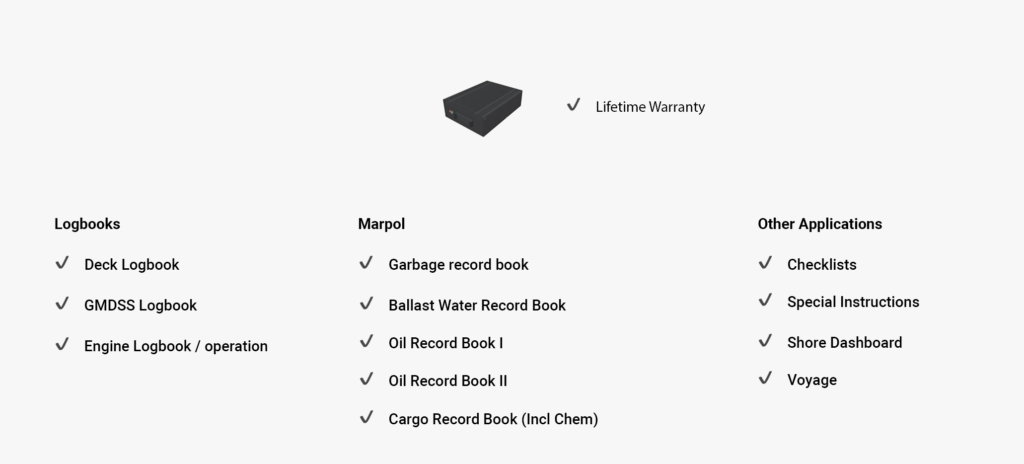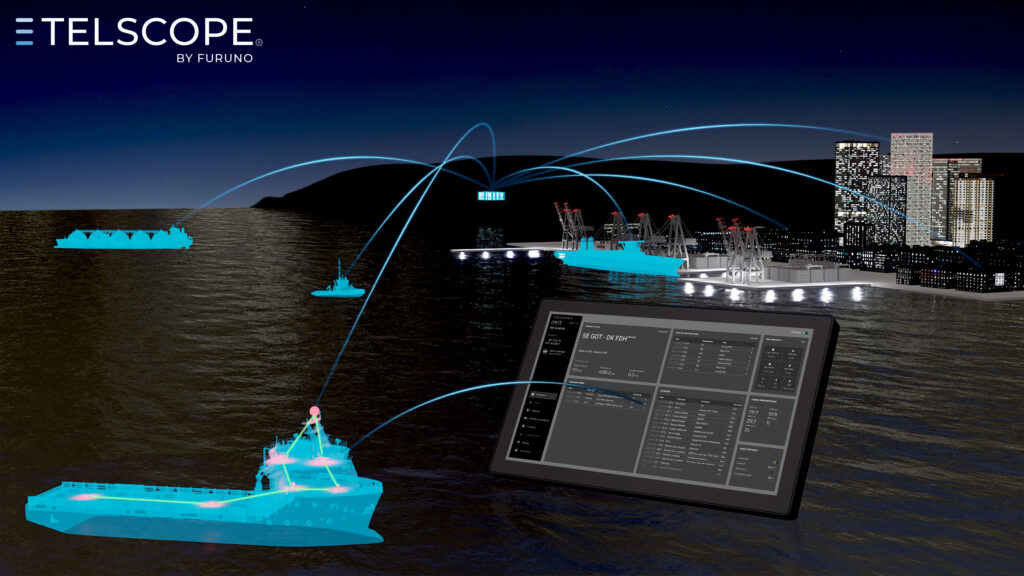 WHY TELSCOPE
Simplicity
Shore Solution
Digital Platform
One Touch on Desktop
Reduce Administrative Burden
Checklists Connected to Logbooks
Fully Compliant to SOLAS and MARPOL
SYSTEM OVERVIEW
On Board Data Collection

Navigation sensors

Automation system

Bridge equipment

On board Data Storage

Secure database

Backup on board and on shore

Ship-Shore Synchronization

Secure

Smart data transfer

API

All data can be shared

3rd party apps

TelScope Web Application

Available on any browser

Responsive design
MODULE OVERVIEW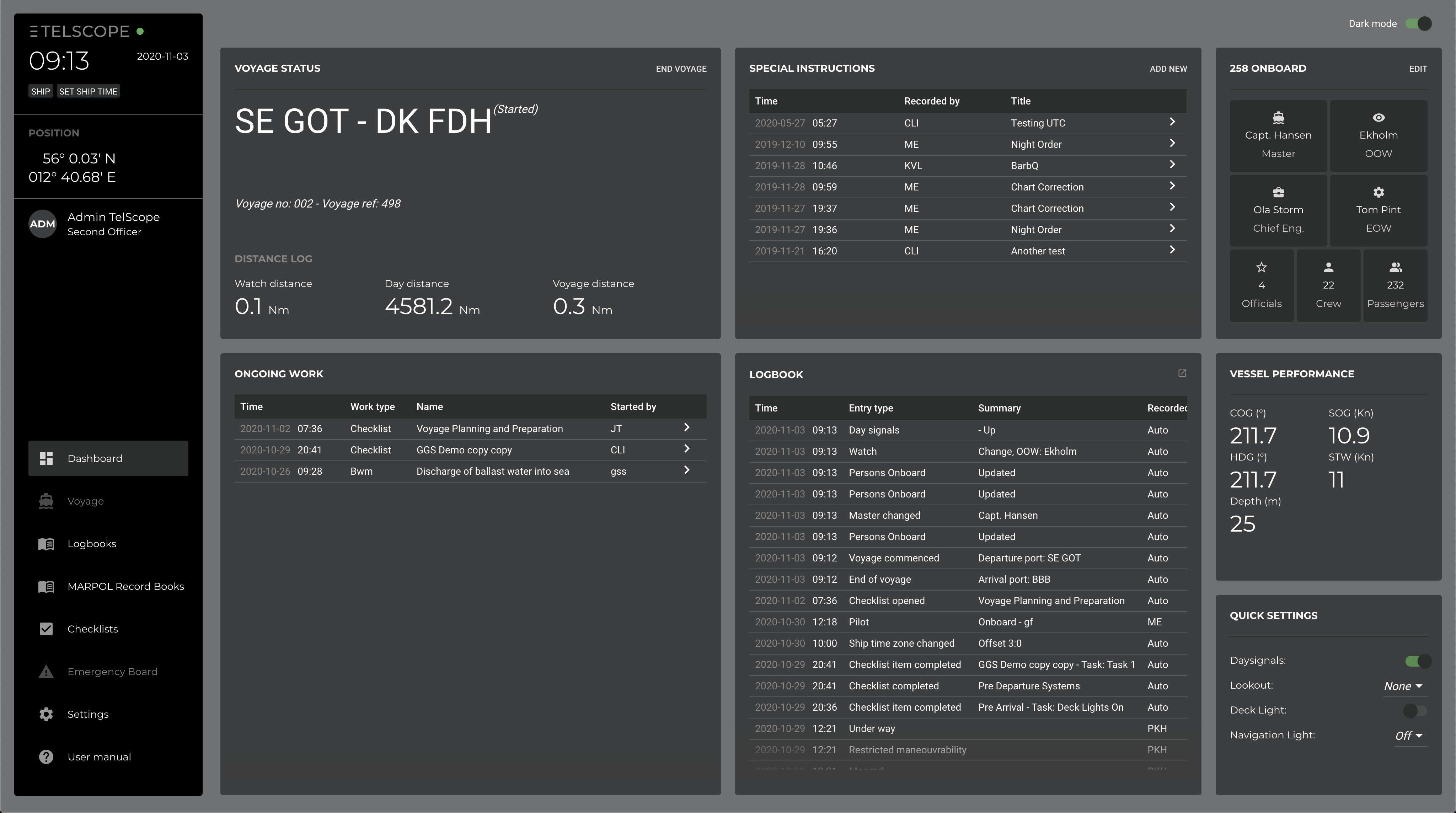 The ship dashboard is the hub of all TelScope activities on the ship. The module display is access dependent, so each user can see their relevant TelScope modules.
The display seen in the example above, is the workstation mode used on the ship bridge.
This includes the most relevant information for deck crew activities. Taking center stage is the voyage information, showing the status of the current voyage and the upcoming tasks on a timeline.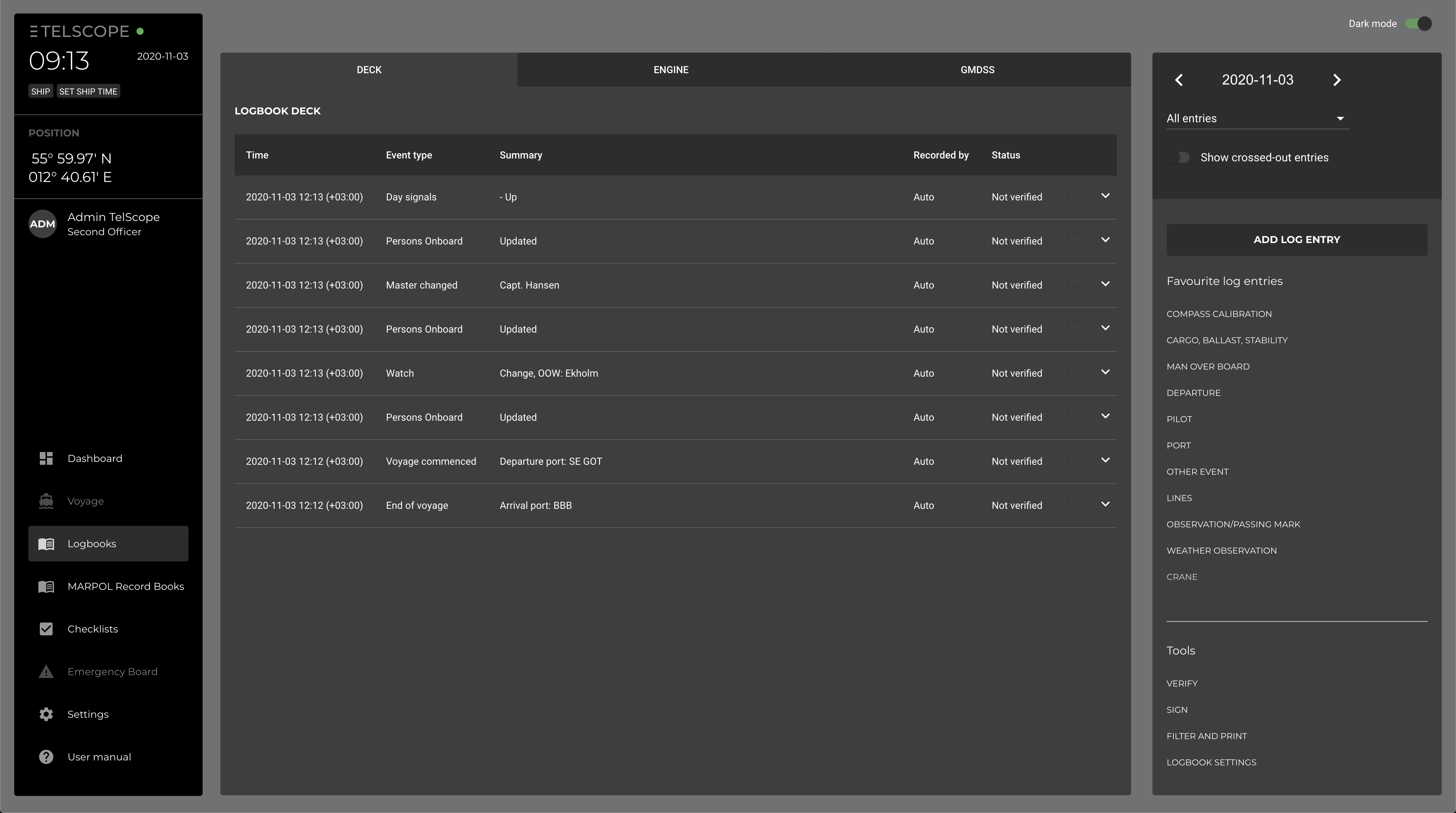 The logbook module contains logbooks for Deck, Engine and GMDSS.
Flag approval is pending.
Sensor data is added to each log entry automatically, allowing you to focus on the tasks at hand.
Separate viewing modes for signing and reporting makes the approval process easy and effortless.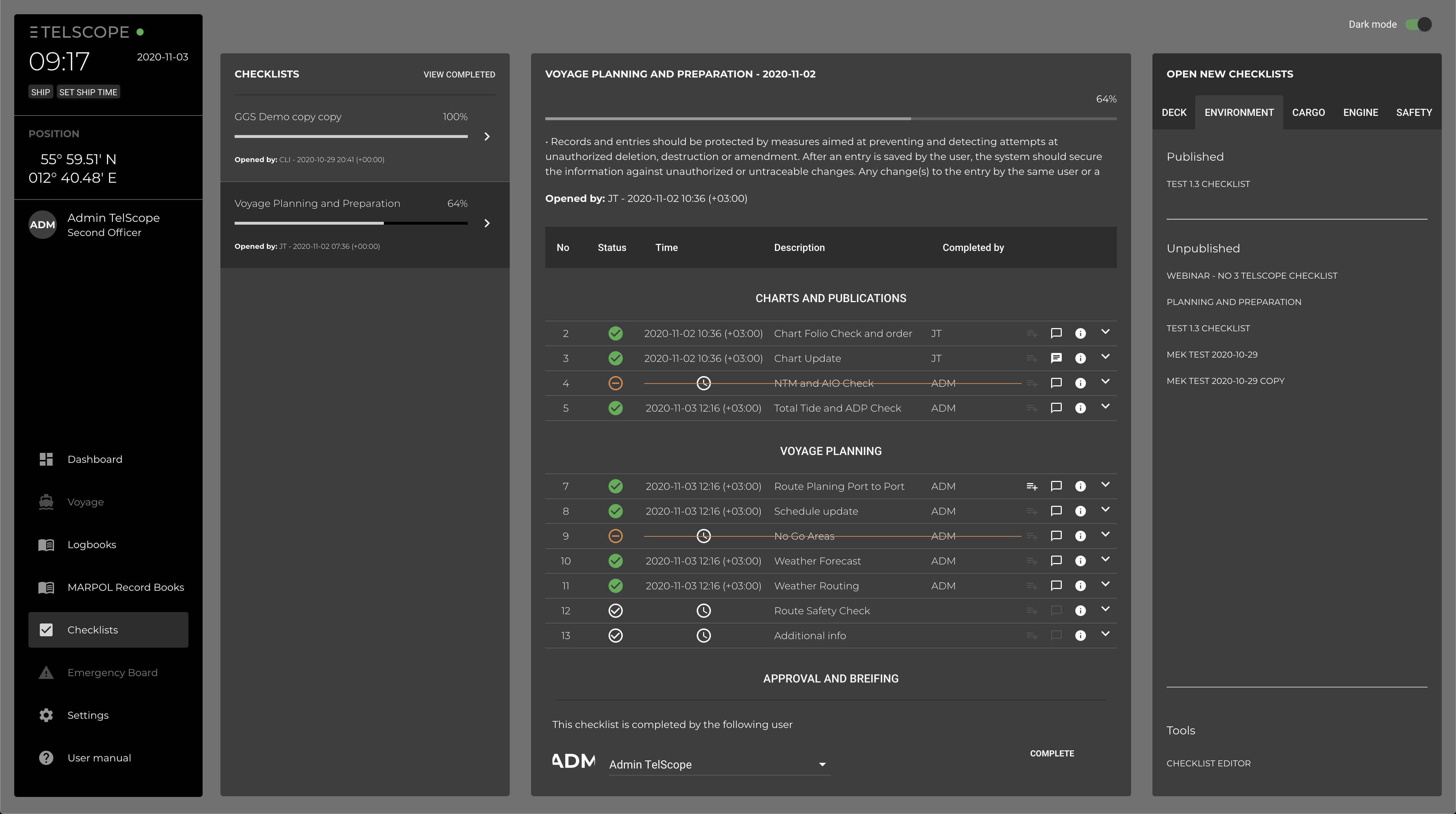 Checklists are custom-made for each fleet or vessel. The easy-to-use checklist editor allows you to build your own checklists, and submit them for approval if needed.
Checklist items can be linked with a logbook, removing unnecessary tasks.
You can add instructions to each item in a checklist, ensuring that tasks are performed correctly.
The checklist module has been optimized for use on touch devices such as smartphones.
Opened checklists are available across devices, so you can start on one device and finish on another.
Multiple users can contribute to a checklist simultaneously.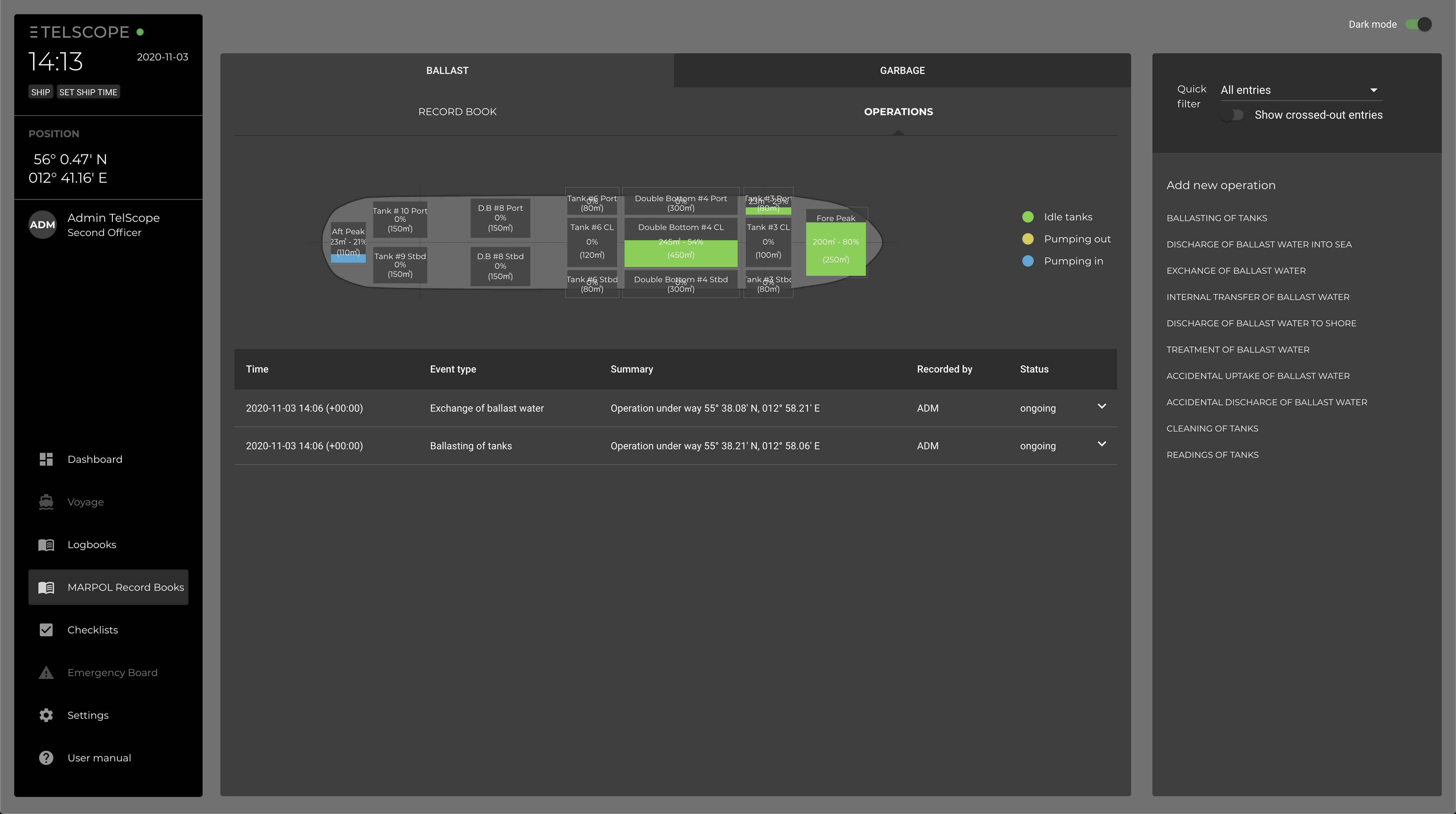 The MARPOL Record Books module contain the following Electronic Record Books:
Ballast Water Record Book
Cargo Record Book
Garbage Record Book
Oil Record Book I & II
The MARPOL Record Book Module is similar to the logbook module. The main difference is the focus on operations, in stead of singular log entries.
The Voyage checklist editor is a tool to connect checklists to a route.
When sailing with a voyage checklist, all necessary tasks will be displayed in the dashboard.
Notifications will be given with a predefined offset to ensure that tasks are completed on time.
The fleet dashboard is available to ship owners, and allow superintendents to monitor the fleet, the specific vessels and their performance. The fleet dashboard uses the data that has been transferred from ship to shore, to keep oversight of the actual, current status of the fleet.
The shore part of the TelScope system allows ship owners to:
Administrate users and role privileges
Create, edit and approve fleetwide checklists
Review and edit the schedules activities for the fleet
Support vessels in emergency situations
The Emergency Situation module is a decision support tool, specifically designed for emergency situations.
It can be configured with automatic start on triggers such as extreme rudder angles and sensor alarms.
It contains the most needed information for the vessel crew and shore team to react quick and correct to emergency situations.
DARK MODE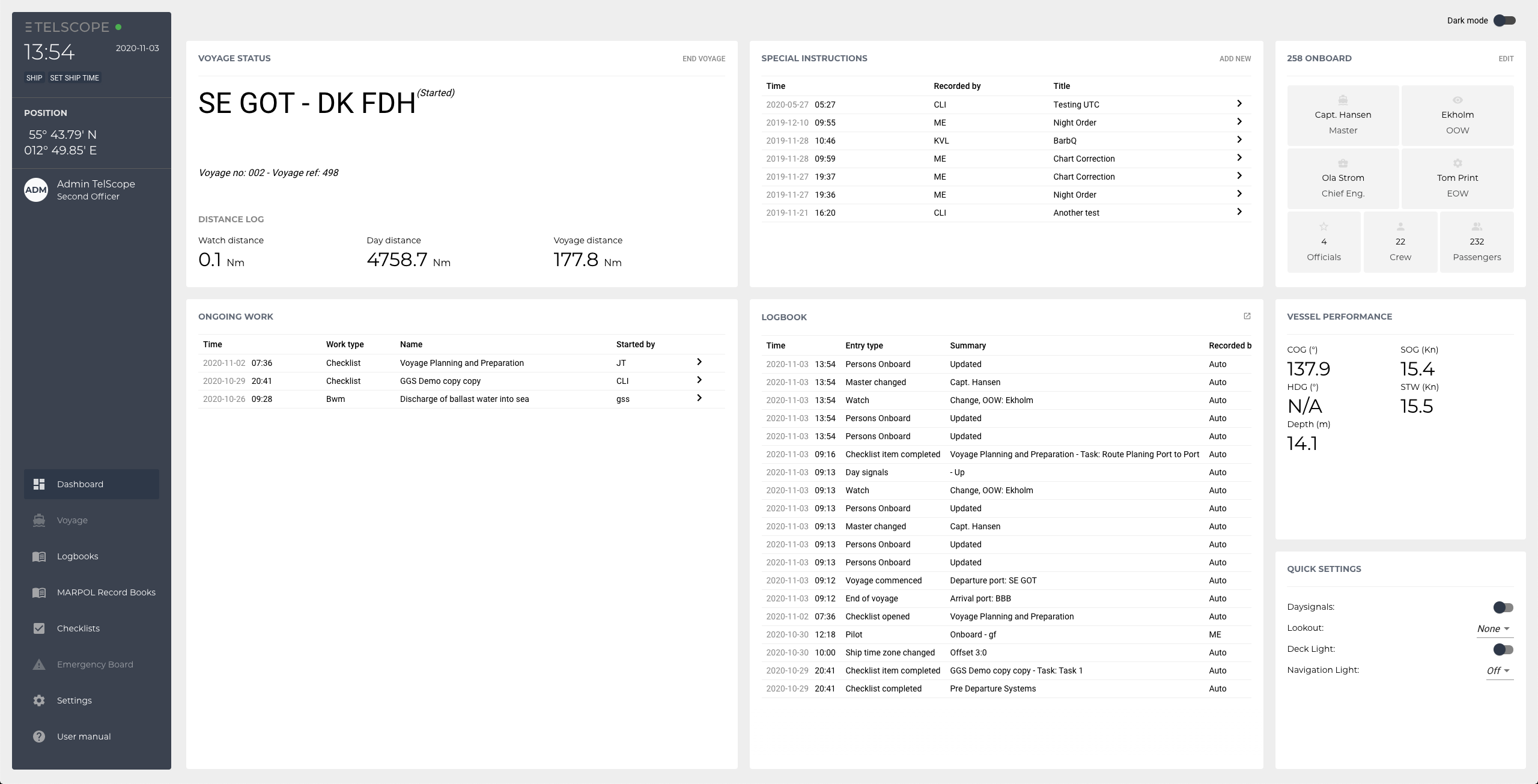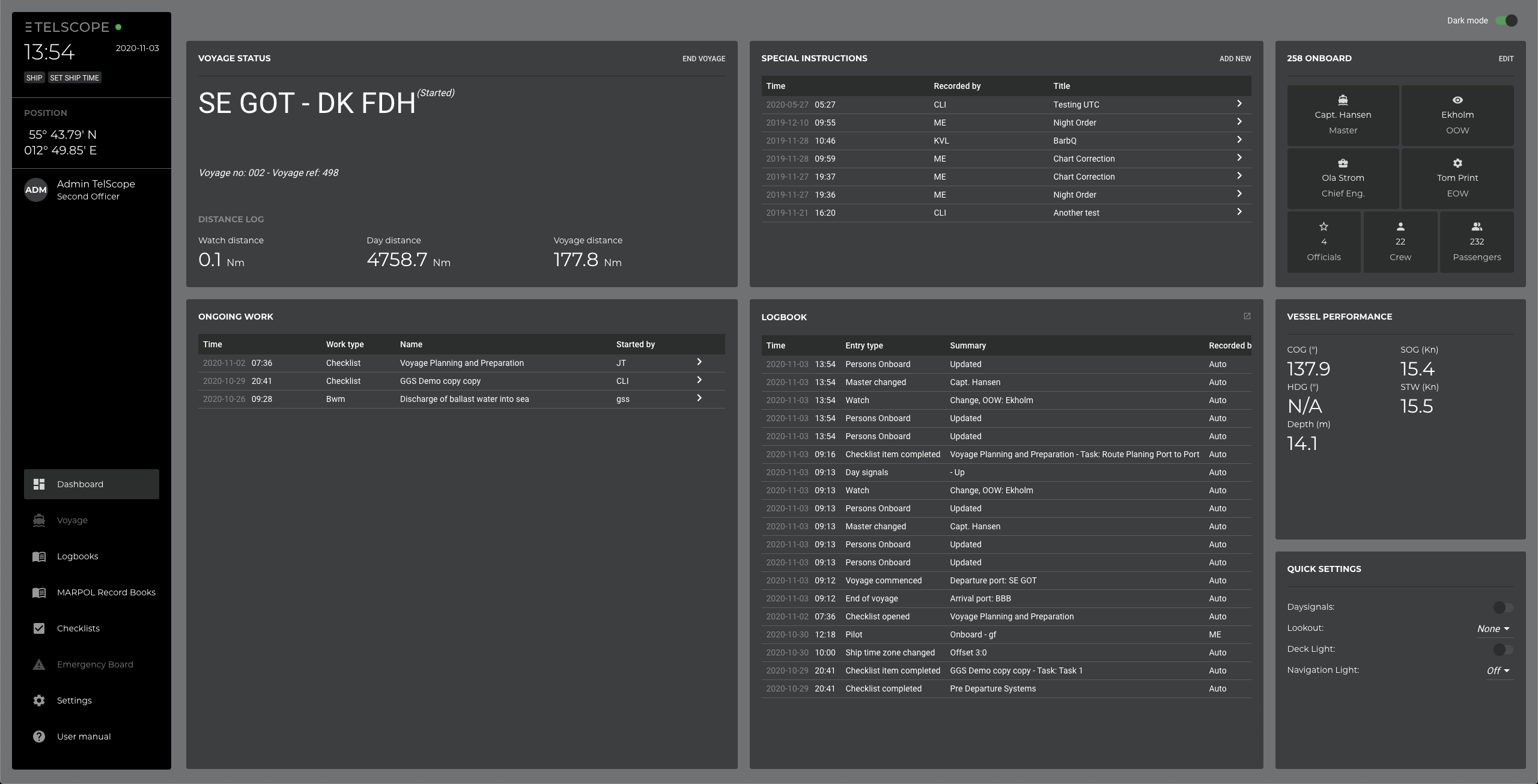 HARDWARE SPECIFICATIONS
TelScope 2224C is the standard unit shipped with TelScope. It is a multipurpose unit, and contains all necessary hardware to run a ship-installation of TelScope.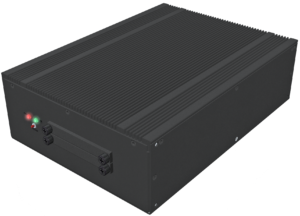 OS
Linux Ubuntu
Cyber security
Processor
Intel 3955U 2.0GHz
RAM
1 x 4GB
Storage
Dual 240GB Intel SSD (RAID) in removable drive bays
Network
4 x RJ 45 10/100/1000Mbps
COM
4 x RS-422/485 isolated NMEA
USB
 4 x USB2.0 + 4 x USB3.0
Power
Multipower

110-230V AC, 24V DC
Automatic fallback without downtime
39W power consumption

Environment

Fanless and silent
IoT enabled

Chassis

Two units can fit side by side in a 19″ rack
3U chassis height

Other
IEC 60945 approved
Graphics
DP++, DVI-I, DVI-D