TECDIS 2128
TECDIS 2128 is a new addition to the TECDIS family. This compact and silent computer is a versatile solution for any kind of vessel.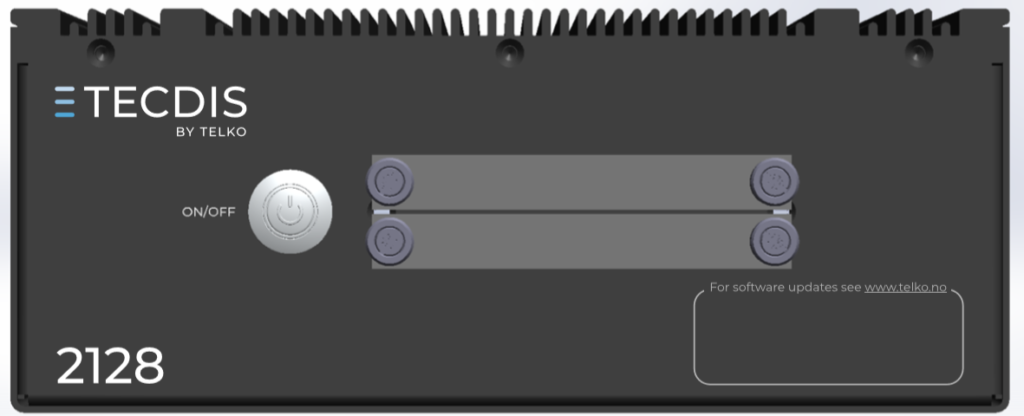 TECDIS at a glance
First released in 2004, and kept up to date with regular updates and upgrades, all for free
Can trace it's roots back to the first TELchart developed in 1994.
Designed in Norway, with input and feedback from users and Telko Ambassadors.
Upgrades from 2138
Noise free
The TECDIS 2128 is a completely silent system, with passive cooling. The cooling ribs on the top of the unit keeps everything cooled down, and no noisy fans are needed.
Compact
The chassis is narrow enough to allow two units side by side in a 19″ rack. The reduced unit height of 3U also helps keep the footprint of this impressive unit to a minimum, without sacrificing on connectivity.
Connected
With a total of 10 COM-ports (2x RS232 on DB9 connectors and 8 RS422/485 on phoenix 5-pin connectors) this unit is prepared for most vessel configurations. 4 network connections, dual display (TECDIS and Conning) and 4 USB 3.0 ports round out a sensible connection array.
Smart and serviceable
AC and DC Multipower as standard on all units, allows the vessel to use 24 VDC as backup power, removing the need for UPS. The multipower solution on TECDIS 2128 gives no downtime when the system switches between AC and DC. We also include removable SSD trays as standard, to increase serviceability.
Technical Specifications
Intel Celeron 3955U processor – 2.0 GHz
4 GB RAM
150 GB SSD
2 isolated RS232 ports (one is dedicated for monitor communication)
8 isolated NMEA ports with phoenix connectors for easy installation
1x DVI-D monitor connection
1x DVI-I monitor connection
1x DP monitor connection
4x 10/100/1000 Mbps RJ45 Ethernet connections
4xUSB 3.0
Compatible with a 3U rack
Interchangeable SSD trays
Available with AC or DC power
Detailed specifications and technical drawings